STURGIS, S.D. – Sturgis Mayor Mark Carstensen officially opened the 83rd Annual Sturgis Motorcycle Rally during a rainy opening ceremony Friday afternoon.
The Budweiser  Clydesdales opened the ceremony, although the famous horses arrived in their transport trucks due to the heavy rain.
Mayor Carstensen says he is thrilled to be hosting the 83rd Rally.
"How wonderful that so many people choose to make the journey to Sturgis to meet up with old friends and make new ones at this incredible event," the mayor said. "We understand how special this event is to so many people and strive to make the Rally experience one they will want to return to time and again."
This year's Grand Marshall is Laura Klock and also on tap at Friday's opening ceremony was Loop Rawlins, a versatile Western performer, doing trick roping, whip cracking and fancy gun spinning. He has thrilled thousands of audiences including those who saw him on "America's Got Talent."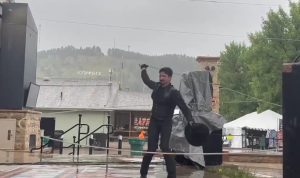 Sturgis officials say as of Friday, they had issued 635 temporary vending licenses. This number compares to 757 in 2022. Thirty more licenses were being processed on Friday and city officials say there are still vendors coming in daily for licenses.