STURGIS, S.D. – It was a beautiful fall season that year – if a bit warm. In fact, it was the sixth warmest September on record. Weather similar to this year.
There was a government shut down in the early part of October 2013. There is one looming now too.
As if those similarities aren't enough, there is no one who lived through Winter Storm Atlas, (or the Cattlemen's Blizzard as some refer to it) October 3-5, 2013, (and subsequent weeks and months), who doesn't have the experience seared in their mind.
Everyone who experienced the October Blizzard of 2013 had their own story, their own version of the record-breaking storm. Twenty-four hours into the epic winter event, broadcasters at KBHB Radio were thinking of only one thing; ranchers out on the vast plains and their livestock.
"No one was talking about what was going on out in the country," recalls news broadcaster Francie Ganje. "We knew the timing was crucial. Folks still had livestock out on summer pasture. Secondly, the wild weather. It had been a warm fall –  in the 80's the day before the storm started, first with rain followed by snow and 60-70 mile an hour winds. Animals hadn't haired up and trees, shrubs, any wooded areas were really still leaf full. We began making phone calls and checking social media."
The Big 81 began reporting on the emerging devastation. "At first, it was in the hundreds of lost livestock. Over subsequent days that would turn into thousands and thousands and thousands of dead livestock. Thousands more were seen wandering over snow-covered fences that stretched across a 28,000 square mile area," recalls Ganje.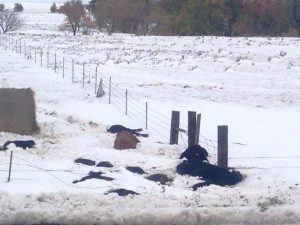 As the storm subsided, Jule Lamb with the Cheyenne River Sioux Tribal Transportation Department was traveling west of Dupree on SD Hwy 212. He  came to a stop, seeing something partially buried by the snow.  A closer inspection found cattle, buried two, three and four deep – near the Gerald Woodward ranch.  He, along with Tribal Transportation employee Erick In The Woods, estimated there would be many more similar scenes out in the country.
Amid all of the difficulties that much snow brings, shutting down interstates and highways and paralyzing towns, many ranchers took a direct blow from the storm. Estimates are that upwards of 60,000 reported and unreported cattle, horses, and sheep perished in the storm. Many ranchers lost all of that year's calf crop and a good majority of their cow herds.
In the weeks and months that followed, ranchers also faced the difficult task of documenting their losses and cleaning up the carcasses. The images, videos, and stories coming out of the region were graphic. As the snow melted, flash flooding became the next threat, further hampering clean-up efforts.
A decade later, Atlas remains a catastrophic event, like the 1972 Flood in Rapid City, S.D., or the 2021 Windy Fire that straddled two states and  scorched approximately 20,000 acres over 22 square miles near Lemmon, S.D.
Eric Jennings, Spearfish, S.D., current president of the South Dakota Cattlemen's Association, told KELO's Rae Yost that producers who were near retirement may have left the industry after Atlas. But, he noted, many stayed.
Cattle prices were increasing before the October storm. Some producers were able to rebuild their herd as they bought cows in November and December, he said.
"If someone lost half their herd they may have decided to build it back (slower). That could take four to five years," Jennings said.
Winter Storm Atlas took a huge toll on people in western South Dakota and in parts of adjacent states as well.
The most immediate aid sprang from a Rancher's Relief Fund organized by ag groups and the Black Hills Community Foundation. Donations neared $1 million by Thanksgiving week that year, and even though losses would reach far beyond that amount the generosity of strangers buoyed the spirits of the cattlemen. (The Rancher's Relief Fund closed on May 31, 2014, having accumulated $5.4 million in donations).
The associated cost for livestock loss and other costs in communities, highways and interstates buried by the blizzard in South Dakota alone was estimated at $1.7 billion dollars.