ABERDEEN, S.D. – The fight for eminent domain reform is gaining momentum, and some communities and counties across the state are drafting and attempting to pass legal language in efforts to counter what they consider illegal taking of property.
The move come as an estimated $4.5 billion Summit Carbon Solutions pipeline would collect carbon dioxide emitted from more than 30 ethanol plants in Iowa, Minnesota, Nebraska, South Dakota and North Dakota, and transport it in liquefied form to be stored underground in North Dakota.
The pipeline would cover 1,958 miles, with 474 miles crossing 18 counties in South Dakota. The company says it would transport up to 12 million tons of carbon per year.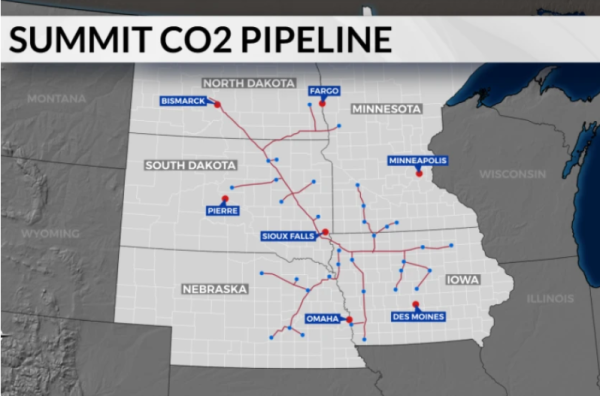 Carbon sequestration would enable ethanol plants to sell more of their fuel in states and countries with stricter emission standards, and also could make projects eligible for billions of dollars in federal tax credits and position them to sell carbon offsets to other companies that emit carbon dioxide.
Minnehaha County commissioners voted on new zoning regulations for carbon dioxide pipelines in a 3½-hour public hearing. The proposed ordinance required setbacks from homes, churches, and businesses in rural areas. However, a tie vote and the Board Chairman's absence postponed the final verdict.
The proposed regulations, the first of their kind in the county, are designed to govern "hazardous transmission pipelines," particularly Summit Carbon Solutions' project aimed at helping ethanol plants reduce their carbon emissions.
A controversy revolves around the Minnehaha County decision, which may set a precedent for other regions, as the state Public Utilities Commission and a federal pipeline agency evaluate carbon dioxide lines' viability.
In related news, the South Dakota Farmers Union Board of Directors and State Policy Committee have rallied behind the Board of Brown County Commissioners recent resolution that supports revising South Dakota law to unequivocally eliminate the taking of private property for non-public use and urges the Governor and Lt. Governor to revise state law and eliminate the abuse of eminent domain.
Doug Sombke, President of the South Dakota Farmers Union, hailed the Brown County Resolution as a crucial step in safeguarding the rights of property owners. He fervently hopes that the Governor will heed the people's plea and use her executive power to protect the state's  landowners.
The Governor, in public remarks, has said she will not call a special legislative session to revise state law as it relates to eminent domain.
This week, the Legislative Research Council informed state lawmakers recently that a list of House Republicans are requesting a special session on eminent domain, land property rights, and carbon sequestration pipelines. The petition for a special session was originated by Representatives Jon Hansen, Karla Lems, Scott More, Scott Odenbach, Carl Perry, and Brandei Schaefbauer.
The Constitution of the United States and the South Dakota State Constitution both enshrine the principle that private property cannot be taken for public use without just compensation. According to officials with Summit Carbon Solutions, currently, the company has partnered with nearly 2,500 landowners across the project footprint who have signed 4,115 voluntary easement agreements accounting for 71.5% of the proposed route.