RAPID CITY, S.D. – Capt. Brittany Pearson takes command of Charlie Co., 1/189th Aviation Regiment is making history as the first female to command a SDARNG aviation unit during a change of command ceremony held this month at the South Dakota Army Aviation Support Facility, Rapid City.
Pearson received command of the 1/189th from Maj. John Barnes who commanded the unit since April of 2022.  
"The pride level in this unit is high, I say the "mighty" 189th, because it is so high and I am grateful to have been lucky enough to have been in the command position for the last year and a half," said Barnes during the ceremony.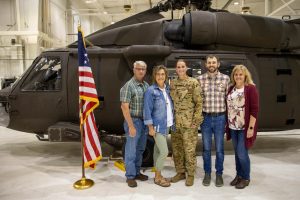 Pearson enlisted in the South Dakota Army National Guard in June of 2008 as a member of the 139th BSB in Brookings, SD as an automated logistics specialist. She served there for two years and reached the rank of specialist right before making the decision to join ROTC and pursue the challenge of becoming an Army Aviator. 
"If you aren't getting chills that make you want to show up here every day, I challenge you to push yourself and make moves to challenge yourself to find a spot you find really cool and helps the mission," said Pearson. 
Pearson attended flight school from May 2012 through August 2014, then completed the follow-on Medical Service Basic Officer Leadership Course, receiving recognition for graduating at the top of her class in both courses. Upon returning to South Dakota, she moved to the Rapid City area and took the position as a team leader in the 1/189th. 
"Don't lose focus that what we do is meaningful, I still get the chills when people talk about the MEDEVAC and what we do for others," said Pearson. 
After a major reorganization of the unit in 2016, Pearson took on the role of platoon leader and the challenge to prepare the new platoon for an upcoming deployment. She deployed with Charlie Company in 2017-2018 in which she led a 3-ship MEDEVAC operation in the support of Operation Inherent Resolve at a remote forward operating base in eastern Syria. 
"In our conversations about command I really appreciate her willingness to step up and invest everything she can to make this unit the best it can be and passion to make the unit as successful as it can be. I am looking forward to her opportunity and wish her the best of luck," said Lt. Col. Jon Murphy, State Army Aviation Officer and 881st Troop Command Commander.