SIOUX FALLS, S.D. – Mattie Goff Newcombe has been inducted into the South Dakota Sports Hall of Fame.
A lifelong South Dakota rancher from Meade County, Mattie Goff was born Dec. 21, 1906, at Tepee Creek south of White Owl, S.D. She was educated at the Tepee Creek School. Goff Newcombe, who died July 26, 2005, used her love of horses to become a pioneer for women in rodeo in the 1920s.
Goff Newcombe was a pioneer in the sport of rodeo, raising the status of performers through her own rodeo contracts. She was a daring trick rider known for her speed and for never losing her hat. As a bronc rider, she was never thrown and as a relay rider she was never outrun.
The first rodeo Goff Newcombe participated in was at Sioux Falls, SD, in 1921. Her first rodeo adventures were as a bronc rider. She later joined Leonard Stroud's outfit as a trick rider doing such stunts as "The Roman Stand," "Under the Neck" and "Slick Saddle Stand." She also perfected the most dangerous stunt called the "Back Drag" or "Suicide Drag."
Over the next decade, Newcombe traveled the rodeo circuit to places as far away as Indiana and Kentucky.
By 1926, Newcombe was being billed as the World's Champion Lady Trick Rider. Wherever Mattie appeared she drew large, enthusiastic crowds. Appearances at events on the rodeo circuit netted Newcombe several first place awards.
The cowgirl was known for her broad-brimmed, 10-gallon, white-beaver Stetson hat she wore in shows and competitions. Goff Newcombe started riding horses at age 3, was still breaking colts in her late 70s & riding horses into her 90s.
She won so many first-place awards in rodeos nationwide that she was named America's All-Around Cowgirl from 1927-1932.  She retired that year from competing.  When and wherever she performed, she drew large crowds and impressed President Calvin Coolidge with one of her performances at the Black Hills Roundup in 1927.
In 1927, she married Maynard Newcombe and began a new career as the couple managed their Meade County ranch, expanding the operation and nursing it through the Great Depression. The Newcombes espoused a conservative grazing policy that was easy on the land and made the operation resilient in times of drought. Newcombe did hands-on ranch work herself and sustained injuries that she had avoided in her rodeo career, including a 1950s accident in a bull pasture that left her unconscious for eleven days.
Always returning to her work, Goff Newcombe cemented a reputation for strong willpower.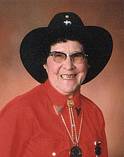 Retiring to Sturgis, S.D., with her husband in 1981, Newcombe continued to appear in rodeo parades even after she could no longer mount her horse without help. She died in Sturgis on July 26, 2005, at the age of ninety-eight.
She was a major benefactor of the Casey Tibbs South Dakota Rodeo Center in Fort Pierre, S.D., which displays many of her rodeo-related possessions, memorializing a practical and successful ranch woman whose dramatic equestrian stunts entertained a United States President.
Goff Newcombe was inducted into the National Cowboy Hall of Fame in September 1961 as a Charter Member and into the South Dakota Hall of Fame in September 1989. The Casey Tibbs Foundation honored Mattie at their Tribute Dinner in 1991. Mattie was inducted into the National Cowgirl Hall of Fame and Western Heritage Center in Fort Worth, TX, in November 1994.