RAPID CITY, S.D. – Rapid City Police say the suspect in a November 4th shooting was taken into custody Thursday night during a traffic stop.
Police have identified him as 35-year-old Charles Colhoff of Rapid City.
During a traffic stop yesterday near W. Main St. and Sheridan Lake Rd., police located Colhoff with a loaded pistol under his seat, and he was placed under arrest for Open Container in a Motor Vehicle, and Possession of a Firearm by a Former Violent Offender.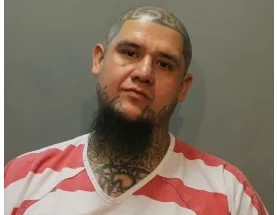 Police say he also has active warrants for Attempted Murder, Commission of a Felony with a Firearm, and Possession of a Firearm with a Prior Felony Drug Conviction.
The warrants stem from the shooting last weekend, during which officers responded to the area of N. Maple Avenue and E. Knollwood Drive for reports of gunshots.
Upon arrival, officers located a male victim who had been shot, and provided immediate first aid until a medical unit transported the injured male to the hospital. His injuries are serious but not life-threatening.
Colhoff has been transported to the Pennington County Jail, and the investigation into the shooting incident is ongoing.