RAPID CITY, S.D. – InClined will be playing at The Park on Saturday, October 21 at 7:00 pm.
Last April, InClined played their first show in 10 years. The 200+ seats at The Park 707 Nightlife were sold out more than a week in advance, but going back to their inception in 2010, the six members of the group had grown accustomed to selling out venues.
In the fall of 2010, Black Hills Community Theatre produced 12 sold-out performances of Always, Patsy Cline, directed by BHCT veteran Michael Kraklio. It was the first time that had happened in BHCT's then 42-year history, and it was extended to 15 with the three-show reprise to close the Rushmore Mall theatre space before they moved to the much larger Performing Arts Center of Rapid City.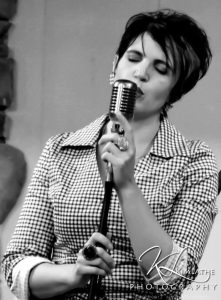 Shortly after the run of Always, Patsy Cline, six of the seven cast members, recognizing the "power of Patsy," formed InClined and started playing around the Black Hills. The band was already tight and getting better with every show, but as a dedicated and highly skilled theatre artisan, it was Issler's powerful, soulful alto and convincing representation of Patsy Cline that mesmerized audiences.
The show quickly and intentionally morphed from a Patsy Cline tribute to a "Patsy Cline experience," not mimicking the iconic artist so much as imagining how she may have evolved herself had she not died tragically at the age of 30. Issler has become a devotee of Patsy Cline history. She shares stories of Cline's life throughout the band's performances of her classic songs along with costume changes and positive audience interaction, further emulating the experience of enjoying a Patsy Cline performance.
About InClined:
The 2010 cast of Black Hills Community Theatre's Always, Patsy Cline consisted of Rapid City native Si Issler as Patsy Cline, Sioux Falls' Dee Kurtz as her friend Louise, and the five musicians who made up Cline's band, played by Dylan Fleming, Lon Schnittgrund, Carla Oerter, and Michael and Melissa Moore. While most of the cast members were strangers or only loosely
acquainted with each other going in, they became good friends through the long rehearsal and performance process and still remain close friends 13 years later.