HURON, SD – Ag industries grow by identifying opportunities and filling a need.  The South Dakota Sheep Grower's Association (SDSGA) is an example of that when it established a Premium Yearling Ewe Sale held annually the third week in July.
SDSGA Executive Director Lisa Surber says the now six-year-old sale has developed nicely.
"As we were putting the idea of this sale together, we saw a need – from sitting in sale barns across South Dakota – for a yearling ewe sale that would serve smaller producers."
She continued, "There are areas where there are a lot of sheep but in smaller flocks. In order for those producers to get quality replacements, they need to find those outside of their own herds."
Set for Sat., July 22nd at Magnuss Livestock Auction in Huron, the approximate 700 head consigned are available for previewing by Friday afternoon. The event kicks off Saturday with an educational program at 10am (CT) from SDSU sheep specialists and other industry representatives, followed by a noon lamb lunch with the live sale getting underway at 2pm (CT). On line bidding is also available.
As a member organization, the South Dakota Sheep Growers Association actively looks for events, activities and programs that educate and promote current producers and attracts new ones. According to Surber, there is also the goal to reach the greater sheep industry regions including some of the top sheep and lamb producing states in the U.S. – among them Colorado, Wyoming, Utah, Montana and Iowa…along with South Dakota.
"Our work as an association is meant to benefit not only our membership but also the larger sheep industry region we are in," says Surber.  "And as a membership organization, activities like this generate income that provides the means to continually offer educational, policy creation, marketing opportunities, and membership growth."
SDSGA is recognized for developing programs and incentives to attract the next generations of sheep, lamb and wool producers. Go on line to sdsheepgrowers.org for more details.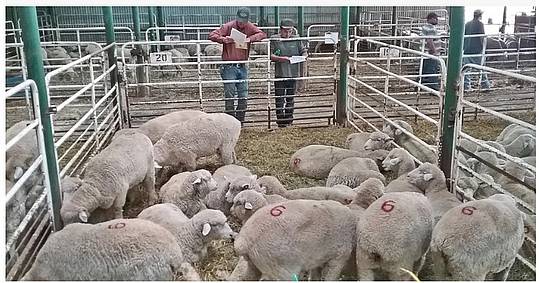 "That's the draw right now.  Young people are looking for an enterprise to enter the livestock business," she observes.  Cattle require more capital and more resources than sheep. We continue to see that as a draw for those wanting to enter production agriculture.  It's a place to start for many."
Both consignors and producers needing replacements have identified the July 22nd Premium Yearling Ewe Sale as a standout that is also viewed as an early indicator of market trends.
"Producers have recognized the quality in this sale and want to be a part of it," says Surber. "In addition, this sale is early and has established itself as a benchmark for market trends heading into the fall. We're pretty proud of that."
She adds," There's quality breeding sheep from consignors – in front of potential buyers needing replacement genetics in their flocks. It's a win/win."
Fundraisers are also a part of  the event to raise money for SDSGA programs.  Sheep producers Joe and Tonya Coplan have donated a red and white Border Collie up for auction.  This pup was born 4/3/23  and is already showing great promise.  He is out of a B&W female and a R&W male.  Both parents work on Coplan's operation.  Litter mates are out working for South Dakota sheep operations already.  The proceeds of this donation benefit the SDSGA Youth Buyer Credit Program.
Sage Creek Targhees, Tommy and Laura Mills, are donating a yearling Targhee ram for a rollover auction to generate funds in support of the SDSGA Shearing Training Trailer. These producers generously support SDSGA activities through donations each year.