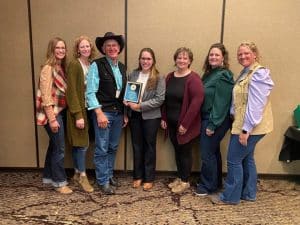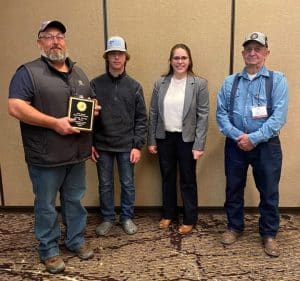 RAPID CITY, S.D. – At the 86th annual South Dakota Sheep Growers Association convention in Rapid City, exceptional producers were praised for their outstanding achievements and commitment to advancing the sheep farming industry, showcasing remarkable contributions in the agriculture world.
The South Dakota Master Lamb Producers Association, a respected entity since 1975, spearheads this recognition. They honor those who not only exhibit excellent management practices but also actively support the industry on state and national stages. The ceremony is a much-anticipated moment, with awards presented during a special luncheon.
This year, three prominent producers were honored: Cook Sisters Rambouillet from Glad Valley, Darling Creek Ranch, LLC from Meadow, and Franke Family Sheep from Fruitdale, all making their mark in South Dakota.
Estelle Cook, owner of Cook Sisters Rambouillet, is renowned for her award-winning Rambouillet sheep, known for their premium genetics and fleece. With a flock of 150, she received recognition for her top certifying ram at the Dakota Performance Ram Test in 2021 and the champion ewe fleece and American Rambouillet Sheep Breeders Association Legacy award in 2023.
Darling Creek Ranch, managed by Dan and Sharon Anderson, manages 1,200 commercial Rambouillet-based ewes with an innovative rotational grazing program that enhances range health and sheep populations while maintaining profitability. The Andersons also serve as educators and advocates, hosting student interns and actively participating on boards and councils.
The Franke Family Sheep, led by Brian Franke, manages 450 commercial Rambouillet ewes with a focus on sustainability and high-quality practices. Originating from Keith and Yvonne Franke, the operation now thrives under Brian's leadership, with support from his father and children, ensuring the enterprise's long-term viability.