PIERRE, S.D. – The South Dakota Board of Regents announced Steve Elliott as the next president of Black Hills State University (BHSU). Currently the vice president of academic affairs at Wayne State College (WSC) in Wayne, Nebraska, Elliott will soon become the 12th president of the University.
Elliott has been an active Wayne State Campus community member since 2003 and has held various positions, including faculty member, department chair, and dean, before accepting a vice president role in 2016. Elliott holds a master of fine arts degree (the highest degree in that field) from the University of Maryland and served in the United States Marine Corps.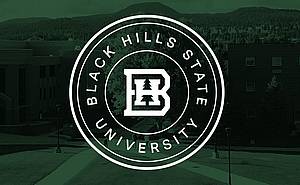 "The presidential search committee worked diligently to select the best from the best. Steve Elliott rose to the top and will be an excellent addition to Black Hills State University and the Spearfish community. He is well positioned to take BHSU to the next level," said committee chairman Regent Jeff Partridge. "His leadership style appears efficient and effective, and his service to our country is a testament to his exceptional work ethic. The Board of Regents is happy to welcome Steve and his family to South Dakota."
Elliott will begin his new role at BHSU on December 22, 2023.
"I am honored and humbled to accept the position as Black Hills State University's next president," said Elliott. "Black Hills State and the surrounding region have exciting potential. I look forward to working with the State of South Dakota and the communities we serve to develop new academic opportunities, expand partnerships, and continue building Black Hills State University's outstanding reputation. My family and I are truly excited about becoming part of the vibrant and growing Spearfish community."
Elliott is married with three children and has a history in fine arts. His large-scale sculptures and mixed-media works have been featured in 26 states nationwide. BHSU will host a welcome-to-campus celebration with details to be provided at a later date.