RAPID CITY, S.D. – A second correctional facility in South Dakota for women is being built in Rapid City.
Kellie Wasko, Secretary, South Dakota Department of Corrections said the agency has been working closely with state legislators since 2021 to bring another prison on line due to overcrowding at the Women's Prison in Pierre, S.D.
In 2022, state lawmakers passed a bill that was signed into law by Gov. Kristi Noem to create an incarceration construction fund. In April of that year, the state purchased 20 acres of land near Feeding South Dakota along North Creek Drive in northeastern Rapid City.
In March 2023, Noem signed legislation authorizing the DOC $60 million from the incarceration construction fund for the "planning, site preparation, designing, and construction of a prison facility for offenders committed to the Department of Corrections in Rapid City."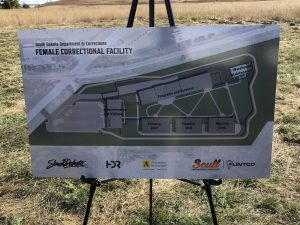 "Funding new prisons is a public safety issue," Noem said in a news release about prison funding. "Last year, we made the point to legislators that this was necessary. I'm glad that just a year later, they have come to agree and appropriately prioritized the security of South Dakotans."
A memo from the Bureau of Finance and Management, said the 308-bed women's prison in Rapid City would help solve the serious overcrowding problem at the women's prison in Pierre.
"A new prison would allow for a therapeutic community where drug offenders would receive addiction treatment," the memo states. "The expansion of prison-based drug treatment programs can help reduce the likelihood of recidivism and help control future overcrowding of our prisons."
"Considering the overcrowding in the Department of Corrections right now, and this being the second female facility in the state,  it will make for a much safer environment for our females," Wasko said.
The prison will be a medium security, 308-bed facility, able to help with overflow experienced in the current women's prison in Pierre.
"It will have all the current technology that we're accustomed to seeing, with fencing systems, camera systems – a much more modern facility," Wasko said.
Pennington County Sheriff Brian Mueller said he's seen more females in custody in the last five to 10 years.
"A lot of our facilities were built, you know, averaging with that 10 percent female population, but we're running over 25 percent female population in Pennington County today. I think the prisons are seeing similar numbers. So adding female capacity specifically is definitely a need here in South Dakota," Mueller said.
It's expected the Rapid City Female Correctional Facility will be completed in late 2025 or early 2026, according to Wasko.